3rd Fundy Fun o navigational challenge
May 19th 2017 8:00am - May 21st 2017 11:00am
Organizer: David Ross (Event Director)
Map: Fundy National Park
Advanced navigation exercise.
Off trail and safety bearing knowledge are required. There are no trails in the exercise area. This is for experienced orienteers or those who are prepared to loose contact on the map
Park at the Dickson Falls lot about 2 km down the Pointe Wolf road. Cross the highway to the north side following the orange ribbons to the start/finish control flag. This self start event is a model map at a scale of 1:5000, 5 m contours in the same terrain used for the 4 hour Fundy Mist on May 21. There are eleven controls Safety bearing is south. Mini control flags are used on a two loop course. You are welcome to just do one loop, both or to do them in any order. No punching nor SI timing is used. Enjoy your own pace and enjoy the park. The terrain various from flat to steep and rocky. The forest is slightly greener in most of the white (open forest) areas of this map made in 1999. Conversely the dark green vegetation by now may be more open, but no guarantee.

For those who register for both the Owl Prowl and Fundy Mist you will be emailed a free PDF of the training course so you can print your own map ahead of your visit if you wish to guarantee one. This is so you can start anytime without looking for organizers who may be busy or out setting controls on Saturday otherwise the charge is $5 per map on Saturday 12:00-14:00 at the Salt and Fir centre near the golf course.
contact David Ross at dr @ orienteering.nb.ca to register for this event.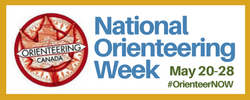 ---
Location
Course Maps
No course maps posted yet.