8th Fundy Owl Prowl (Night-O)
May 20th 2017 9:00pm
Organizer: David Ross (Event Director)
Map: Fundy National Park
Highway 114 Moncton to Hillsborough has been reopened on May 12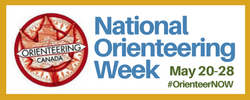 This is the first event of the weekend. Click the links for information on training opportunities and the Fundy Mist Rogaine
Français: Communiquer avec Harold McQuade hm@orienteering.nb.ca
Location: Playground area located across from the Fundy Park main visitors Centre.
Type of event: Night orienteering using a head lamp. Find as many controls as you kind in the time limit. Go as a team or compete solo. To avoid a late penalty finish within the course time.
Two courses.
Little Saw Whet: Easy course. The ten controls will be located in the playground amphitheatre area. Open to everyone.
Great Horn Owl: Challenging. Some of the 20 controls will be located in the forest and others are just plain further away. Night time navigation experience is required to find the forest controls. Will anyone actually get them all?
Registration: Pre-registration is requested to print sufficient maps and to avoid the late registration charge.
Provide: 1) Name, sex and date of birth.
2) Course
3) Teams. Provide team name
4) SportIdent number (SIN). Electronic recorder. If you do not have one it will be provided. If lost a charge of $45 will be charged.
Contact: David Ross at dr@orienteering.nb.ca
Onsite registration: Salt & Fir Centre, 21hr
Start: 22hr
Duration: 1 hour
Registration Fees (Pay onsite):
Category Pre-reg./Late fee
Adults . . . . . . . $15/$18
Juniors (under 20) . . $6/$8
Family Maximum. . . .$35/$45
Categories: 1) Solo
2) Teams
Equipment: Whistle (mandatory)
Headlamp or flashlight
Compass
Watch
Onsite registration directions
Directions to onsite registration.Follow the arrows on the two coloured triangle Orange and White signs to the onsite registration.Look for the Orienteering New Brunswick banner.
---
Location
Course Maps
No course maps posted yet.